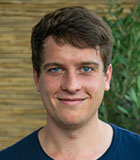 MSc Felix Schiefer
Karlsruher Institut für Technologie (KIT)
Institut für Geographie und Geoökologie
Kaiserstr. 12
76131 Karlsruhe
Germany
2018
Skowronek, S.; Van De Kerchove, R.; Rombouts, B.; Aerts, R.; Ewald, M.; Warrie, J.; Schiefer, F.; Garzon-Lopez, C.; Hattab, T.; Honnay, O.; Lenoir, J.; Rocchini, D.; Schmidtlein, S.; Somers, B.; Feilhauer, H. (2018).
Transferability of species distribution models for the detection of an invasive alien bryophyte using imaging spectroscopy data
.
International journal of applied earth observation and geoinformation
, 68, 61–72.
doi:10.1016/j.jag.2018.02.001