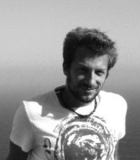 Dr. Teja Kattenborn
Karlsruher Institut für Technologie (KIT)
Institut für Geographie und Geoökologie
Kaiserstr. 12
76131 Karlsruhe
Germany
Teja Kattenborn
Remote sensing of vegetation, UVA-based remote sensing, hyperspectral data
Topics
Deep Learning and Convolutional Neural Networks (CNN)

Radiative transfer modelling of plant canopies

Remote Sensing of plant functions and strategies

Hyperspectral remote sensing

UAV-based remote sensing applications
Curriculum vitae
Since 2018
PostDoc at the IfGG
2018

Visiting Scientist at the Bio-Economy Unit, Directorate D - Sustainable Resources, Joint Research Centre (JRC), European Commission, Ispra, Italy.

2017

Research Stay at the Cavender-Bares Lab, College of Biological Sciences, University of Minnesota, Minnesota, USA.

2015 - 2018
PhD dissertation at the IfGG

Combination of empirical and physical based models for habitat and vegetation monitoring

.
Since 2014
Co-CEO at GeoCopter
2012 - 2014
M.Sc. Environmental Sciences (major) / GIS & Environmental Modelling (minor), Albert-Ludwigs University Freiburg.
2012 - 2014
Research Assistant at the Chair of Remote Sensing and Landscape Information Systems (FeLis), Albert-Ludwigs University Freiburg.
2009 - 2012
B.Sc. Environmental Sciences (major) / Hydrology (minor), Albert-Ludwigs University Freiburg / Stellenbosch University, South Africa.
Teaching
Data analysis, Introduction to R, Scientific Research Skills
Grants & Awards
2019 Young Scientist Oral Presentation Award (1st prize) at the IAVS Annual Symposium 2019, Bremen, Germany for the presentation Combining Convolutional Neural Networks and high resolution UAV imagery – a powerful tool for vegetation mapping.
2021 DLR/BMWi-funded research project UAVforSAT - Operationalization of Vegetation Mapping through UAV-based Reference Data Acquisitions and Cloudbased Analysis of Earth Observation Data.
2019 ARCADIS prize for geo- and environmental research for the PhD thesis Linking Plant functioning and Canopy Reflectance with Radiative Transfer Modelling.
2019 Award for the best oral presentation at the EARSel SIG Imaging Spectroscopy Workshop Brno, Czech Republic, for the presentation After this Talk You will always map Leaf Pigment Content and not Concentration.
2014 Fellowship for the project Development of a UAV-Based beach-profile monitoring system on outer islands, Freunde der Universität, Albert-Ludwigs-University Freiburg, Germany.
2014 Karl-Steinbuch-fellowship 2013 for the project Development of a UAV-based Monitoring Workflow for the detection of growth deficiencies and loss on agricultural areas.
2012 DAAD-fellow (PROMOS pogramme) in the cooperation project Assessing Utilization of Lesser Known Species in Colombia, Facultad de Medio Ambiente (Universidad Distrital Francisco José de Caldas, Bogotá / Albert-Ludwigs-University, Freiburg).
Publications