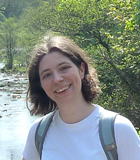 Dr. Eva Koller-France
Karlsruher Institut für Technologie (KIT)
Institut für Geographie und Geoökologie
Reinhard-Baumeister-Platz 1
76131 Karlsruhe
Germany
Eva Koller-France
Ecosystem Ecology, Biogeochemistry, Nutrient cycles
Topics
Long-term influence of biodiversity on nutrient cycles
Ecosystem functioning
Climate change ecology
CV
2016 – 2019
Postdoctoral Researcher, Karlsruhe Institute of Technology (IfGG)
2016 - today
Postdoctoral Researcher, University of Tübingen (Geography/Geoecology)
2014-2015
Project Scientist, Agricultural Trial Station Augustenberg, Karlsruhe (LTZ, working for the Ministry for Rural Affairs and Consumer Protection Baden-Württemberg)
2011-2013
Postdoctoral Research Officer, School of Environment, Natural Resources and Geography, Bangor University, UK and Guest Researcher at the Centre for Ecology and Hydrology (CEH) Bangor, UK
2007-2011

Marie Curie EST Fellow, University of Sheffield, UK (PhD).

Thesis topic: "Impacts of environmental change on subarctic dwarf shrub communities: landscape gradient and field manipulation approaches", Supervisors: Dr. Gareth Phoenix and Prof. Malcolm Press

2000-2006

Diplom Biology, University of Freiburg.

Diplom thesis: "The Ecology of Bothriochloa ischaemum in the Upper Rhine Valley". Supervisor: Prof. A. Bogenrieder.
Projects
The Jena Experiment (www.the-jena-experiment.de)
Publications
Contributions in peer-reviewed journals
2016
Koller, E. K.
,
Press, M. C.
,
Callaghan, T. V.
,
Phoenix, G. K.
(2016): Tight coupling between shoot level foliar N and P, leaf area, and shoot growth in arctic dwarf shrubs under simulated climate change. Ecosystems 19(2), pp. 326–338.
10.1007/s10021-015-9936-z
2015Domínguez, M. T., Sowerby, A., Smith, A. R., Robinson, D. A., v. Barsel, S., Mills, R. T. E., Marshall, M. R., Koller, E. K., Lebron, I., Hall, J., Emmett, B. A. (2015): Sustained impact of drought on wet scrublands mediated by soil physical changes. Biogeochemistry 122, pp. 151–163.
2013Callaghan, T. V., Jonasson, C., Thierfelder, T., Yang, Z., Hedenås, H., Johansson, M., Molau, U., van Bogaert, R., Michelsen, A., Olofsson, J., Gwynn-Jones, D., Bokhorst, S., Phoenix, G. K., Bjerke, J. W., Tømmervik, H., Christensen, T. R., Hanna, E., Koller, E. K., Sloan, V. L. (2013): Ecosystem change and stability over multiple decades in the Swedish sub- Arctic: complex processes and multiple drivers. Philosophical Transactions of the Royal Society B: Biological Sciences 386(1624). 10.1098/rstb.2012.0488