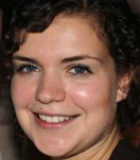 Angelika Hoppe
Karlsruher Institut für Technologie (KIT)
Institut für Geographie und Geoökologie
Kaiserstr. 12
76131 Karlsruhe
Germany
Angelika Hoppe
Please note that this page has not been updated since 2020.
CV
2012-2020

Senior tutor at the Institute of Geography and Geoecology at the Karlsruhe Institute of Technology (KIT)

2007-2011

Academic studies of Geography and German Language and literature (First State Examination; teaching degree for secondary schools)
Topic: "Getrennt vereint? Regionale Identitäten in Baden-Württemberg"
Projects
Publications
Book chapters
2014
Hoppe, A.
,
Kramer, C.
(2014): Baden und Württemberg - eine Nachbarschaft. pp. 226f.. In:
Bräunche, E.
,
Kramer, C.
,
Ludäscher, P.
,
Zibat, A.
,
Wiktorin, D.
 (ed.): Atlas Karlsruhe. 300 Jahre Stadtgeschichte in Karten und Bildern.
Books
2019
Kaltenbach, M.
,
Gothe, K.
,
Hoppe, A.
,
Kramer, C.
(2019): Jobnomaden. Karlsruher Institut für Technologie (Karlsruhe)
10.5445/IR/1000129787
PDF
Publications in Conference Proceedings
2020
Wieland, T.
,
Hoppe, A.
,
Kramer, C.
(2020): Standort, Wettbewerb oder Persönlichkeit: Wer oder was entscheidet über die Adoption des Onlinehandels als Vertriebskanal? pp. 799–810. In:
Schrenk, M.
,
Popovich, V.
,
Zeile, P.
,
Elisei, P.
,
Beyer, C.
,
Ryser, J.
,
Reicher, C.
,
Celik, C.
 (ed.): REAL CORP 2020: SHAPING URBAN CHANGE. Livable City Regions for the 21st Century. Proceedings of 25th International Conference on Urban Planning, Regional Development and Information Society. 1st Edition, April 2020.
10.48494/REALCORP2020.1039
PDF