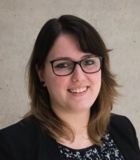 Madeleine Wagner
Group:

Society

Office Hours:

nach Vereinbarung
Karlsruher Institut für Technologie (KIT)
Institut für Geographie und Geoökologie
Kaiserstr. 12
76131 Karlsruhe
Germany
Publications
Contributions in peer-reviewed journals
2021
Mager, C.
,
Wagner, M.
(2021): Geographien integrieren?! Reflexionen über inner-, inter- und transdisziplinäre Forschung in der Geographie [im Druck]. Berichte. Geographie und Landeskunde.
2020Kramer, C., Wagner, M. (2020): Urban Sustainability Indicators: towards qualitative indicators and a spatial-temporal differentiation. World 1, pp. 104–123.
10.3390/world1020009
PDF
Wagner, M., Growe, A. (2020): Regional Urbanization and Knowledge-Intensive Business Activities (KIBS): An Example of Small and Medium-Sized Cities in the Greater Stuttgart Region (Germany). Urban Science 4(1).
10.3390/urbansci4010001
2019Wagner, M., Growe, A. (2019): Creativity-enhancing work environments: Eventisation through an inspiring work atmosphere in temporary proximity. Raumforschung und Raumordnung 78(1), pp. 1–18.
10.2478/rara-2019-0039
Wagner, M., Mager, C., Schmidt, N., Kiese, N., Growe, A. (2019): Conflicts about urban green spaces in metropolitan areas under conditions of climate change: a multidisciplinary analysis of stakeholders' perceptions of planning processes. Urban Science 3(1).
10.3390/urbansci3010015
Contributions in journals and series (not peer-reviewed)
2018
Growe, A.
,
Wagner, M.
,
Schmidt, N.
(2018): Spatial planning in metropolitan regions: what is the role of climate change? Forschungsexzellenz-Netzwerk INOGOV (BLOG).