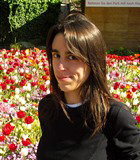 Nuria Basdediós
Karlsruher Institut für Technologie (KIT)
Institut für Geographie und Geoökologie
Reinhard-Baumeister-Platz 1
76131 Karlsruhe
Germany
Nuria Basdediós
Stable metal isotopes, Element cycling, Glacial retreats, Environmental chemistry
Topics
Analysis of Ca & Mg isotope ratios
Inductively-coupled plasma mass spectrometry (ICP-MS, MC-ICP-MS)
Environmental analytical chemistry
CV
| | |
| --- | --- |
| Since 2017 | PhD position at the Karlsruhe Institute of Technology, Institute of Geography and Geoecology, Geomorphology and Soil science Group. |
| 2015-2017 | U-series laboratory technician at the National Research Centre on Human Evolution (CENIEH). Burgos, Spain. |
| 2014-2015 | MSc in Analytical & Bioanalytical Sciences at the University of Oviedo, Spain. Thesis "Synthesis, characterization and use of nitrogen doped carbon nanoparticles as sensorial phases for metals". |
| 2009-2014 | BSc in Chemistry at the University of Santiago de Compostela. Thesis: "Use of a solid phase microextraction (MEPS) for the study of psychoactive substances in toxicological samples". |
Projects
| | |
| --- | --- |
| Since 2017 | Mass budgets and stable isotope ratios of Ca and Mg in ecosystems along a 120 yr-old glacial retreat chronosequence in the subtropical Gongga mountains. |
Presentations
Oral presentations
Basdediós, N.; Wang, J.; Zhong, Z.; Wu, Y., Wilcke, W.: Ca and Mg mass balances along a 120 years' retreat chronosequence on the subtropical Hailuogou Glacier (China). Conference of the German Society of Soil Science and of the Swiss Soil Science Society, Bern, Switzerland (2019).
Basdediós, N.: Introduction to the inductively-coupled plasma mass spectrometry analytical technique. Geochronology seminar series. National Research Centre on Human Evolution (CENIEH), Burgos, Spain (2016).
Posters
Jiménez, F.; Basdediós, N.; Martínez-Pillado, V.; Vega, M.; Jiménez, J. J.; Pardo, R.; Giménez-Forcada, E.: Monitorization of uranium and thorium concentration and isotope ratios in groundwater from a semiarid basin in central Spain by single and multicollector sector field ICP-MS. 39th International Symposium on Environmental Analytical Chemistry, Hamburg, Germany (2016)
Fernández P.; Basdediós N.; Regenjo M.; Carro A.M.; Lorenzo R. A.: Optimization of microextraction by packed sorbent (MEPS®) procedure for clinical and forensic monitoring of seven benzodiazepines in human plasma. 42nd International symposium on high performance liquid phase separations and related techniques, Geneva, Switzerland (2015)
Lorenzo R.A.; Basdediós N.; Carro A.M.; Fernández P.; Regenjo M.: Validation of a MEPS®-UPLC-MS/MS method for the determination of benzodiazepines in plasma. 18th edition of Euroanalysis, the European Conference on Analytical Chemistry, Bordeaux, France (2015)
Publications
Contributions in peer-reviewed journals
2022
Basdediós, N.
,
Wu, Y.
,
Wilcke, W.
(2022): Base cations release in soils along the 127-year Hailuogou glacial retreat chronosequence. Soil Science Society of America Journal 86, pp. 1692–1706.
10.1002/saj2.20473
Basdediós, N., Zhong, Z., Wu, Y., Wilcke, W. (2022): Initial carbonate weathering is linked with vegetation development along a 127-year glacial retreat chronosequence in the subtropical high mountainous Hailuogou region (SW China). Plant and Soil 471, pp. 609–628.
10.1007/s11104-021-05250-y