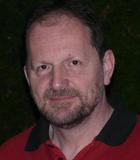 Dipl. Chem. Martin Kull
Karlsruher Institut für Technologie (KIT)
Institut für Geographie und Geoökologie
Hertzstraße 16
76187 Karlsruhe
Germany
Publications
Contributions in peer-reviewed journals
2011
Langner, M.
,
Kull, M.
,
Endlicher, W. R.
(2011): Determination of PM10 deposition based on antimony flux to selected urban surfaces. Environmental Pollution 159(8-9), pp. 2028–2034.
10.1016/j.envpol.2011.01.017
Contributions in journals and series (not peer-reviewed)
1997
Raith, R.
,
Meurer, M.
,
Steusloff, S.
,
Kull, M.
(1997): Bäume als Speicher umweltbedingter Schadstoffe. Jahrringspezifischer Eintrag von Schwermetallen an einem innerstädtischen Standort. Geoökodynamik 18, pp. 165–182.